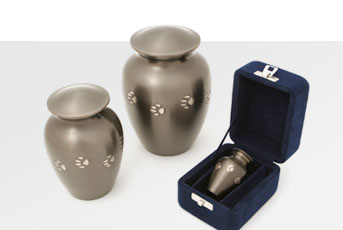 Passages Earthurns and Caskets provide the families of a deceased pet with dignified and affordable alternatives. The choices range from traditional Brass Urns and Keepsakes to new alternatives such as Biodegradable Urns. Our products, such as the Pet Tubes for Scattering or the Pet Handmade Paper Casket, are specifically designed to cater to families that want to create a meaningful farewell for their beloved pets. Each product is available in multiple sizes to accommodate almost any size of household pet.
Coming soon will be two 'Standing Cat' Urns in black and white gloss. These urns are cast in solid brass and hand finished by skilled artisans.
NEW! Watch our latest video, second in a series of shorts designed to educate both the public and funeral professionals on greener options for end-of-life traditions.
Paw Print Cards
Passages® introduces a new blooming Paw Print card to its line of Blooming Remembrances™ for pet memorials.
Brass Pet Urns
A loved ones' cremated remains or hair is used to fashion handmade mementos as unique as the individual. Through an encapsulation process that produces a smooth, granite-like finish, we create exquisite brass pet urns.
Brass Pet Keepsakes
These tasteful keepsakes are designed to keep a small portion of your loved ones remains fur or other memento. The keepsakes are available in brushed pewter, brushed bronze or a slate finish with paws and hold a volume of max. 9 cu inches.
Pet Tubes for Scattering
The Scattering Tubes are currently available in two designs for pets. The "Pet" themed designs include three sizes of dog tube, each featuring appropriate size dog breeds and the one size of cat tube. Passages also offers the popular Rainbow Pond design in three sizes for pets.
Pet Handmade Paper Casket
These caskets are crafted from a biodegradable paper which is handmade using a centuries-old technique. They are suitable for green burial and clean cremation. Each casket includes a fleece lining, pillow and Blooming Ornament.
Water Biodegradable Urns
Water Biodegradable Urns are designed specifically for that purpose and will float briefly and sink gracefully. They are sustainably produced in a variety of natural materials, including recycled paper, rock salt, gelatin and sand. Although they were designed for water burial, all of these urns can also be used for earth burial.
Earth Biodegradable Urns
Earth Biodegradable Urns are designed to degrade over time under natural conditions. Generally, the more moisture in the soil, the quicker the urn will biodegrade, although several other factors including burial depth and general health of the soil must also be considered.