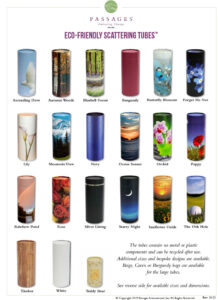 Passages' Tubes for Scattering are designed and engineered to simplify the scattering process. The tubes are durable, dignified and simple to use. Each features a convenient removable lid and an industry-first, perforated "push in" tab that opens easily prior to scattering. They contain no metal or plastic components and can be recycled or composted after use. Suitable for "in-cabin" airline transportation.
Click here to view which designs are available in each size.
If multiple family members or loved ones want to participate in scattering, even in multiple locations, mini-size tubes for scattering allow for that option.
Tubes come in many sizes, including new mini sizes in our popular Bluebell Forest tubes. Please call for size information.